Cosmos Pendant Light
The simple but diverse Cosmos Pendant Light will bring a geometric aesthetic and create an immense feeling like the universe. With the circles, it allows people to draw their art freely in their house.
Description
Cosmos Pendant Light
The Cosmos Pendant Light, mysterious interior design
In the range of excellent lamps that yigo offers you will find the Cosmos Pendant Light.
The crescent cosmos design inspiration of this Cosmos Pendant Light comes from the designer's observation of the universe. This cosmic chandelier shows the mystery of the universe and gives a wonderful experience. Designers use this design to allow people to create their own exclusive universe at home, so that you can feel this wonderful feeling all the time. This is a great work of art that not only provides you with comfortable and clear light, but is a wonderful cosmic experience and a very good choice of furniture for you.
The Cosmos Pendant Light, the universe close at hand
This Cosmos Pendant Light is mainly made of resin, metal and high molecular polymer. Based on circles, this collection of pendant lamps features planets and matte finishes in similar colours, creating a cosmic dark atmosphere. But when they are illuminated, they bring out the gleaming galaxies of the universe. Each model is available in four finishes. There are three models in the series. The placement and size of their LED light sources are a bit different, so they fit well together to hang.
This Cosmos Pendant Light is perfect for hanging over a dining table or surrounded by empty corners, creating a small cosmic vibe that will be an eye-catching decor. You can also hang it above a small table, such as a nightstand, to brighten the surrounding furniture.
If you have any questions about our products, please contact us and we will get back to you within 24 hours.
The product can be customized for a chandelier. Please contact us to learn more.
Cosmos Pendant Light Size
Model A
Size:Dia 16cm /∅ 6.3″
Size:Dia 20 cm /∅ 7.9″
Size:Dia 30 cm /∅ 11.8″
Size:Dia 48 cm /∅ 18.9″
Model B
Size:Dia 30 cm /∅ 11.8″
Size:Dia 48 cm /∅ 18.9″
Model C
Size:Dia 16 cm /∅ 6.3″
Size:Dia 22 cm /∅ 8.7″
Size:Dia 27 cm /∅ 10.6″
Cosmos Pendant Light Details
Material: High molecular polymer/Resin/Metal
Light source: LED-chip
Power: Max 5W
Weight: 2kg/ 4.4lbs
Finishes: Matte Black, Matte Green, Matte White, Light Gray
Control method: push button switch (not dimmable)
We provide 150cm/ 59″ wires. Can be extended upon request
Purchase Notes
If you have problems with customs clearance and shipping damage, please contact us by email. Email address: 

[email protected]

This order does not include bulbs.
Please notice and understand that color difference and measurement discrepancy are unavoidable.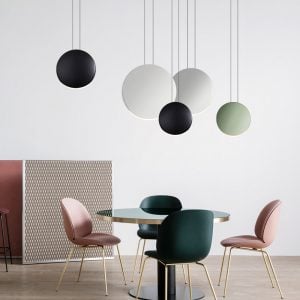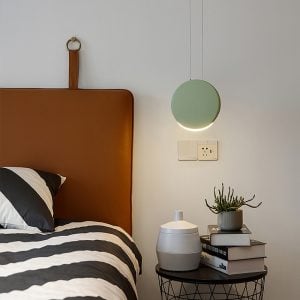 Product Details
Data sheet
Color
Light gray
Matte Black
Matte Green
Matte White
Room
Bedroom
Dining Room
Entrance
Guest Room
Living Room
Material
High molecular polymer
Metal
Resin
sell type
A Dia 16cm
A Dia 20cm
A Dia 30cm
A Dia 48cm
B Dia 30cm
B Dia 48cm
C Dia 16cm
C Dia 22cm
C Dia 27cm
led light source
Cool Light
Warm Light
energy_efficiency_class
A+
max_energy_efficiency_class
E
min_energy_efficiency_class
A++
Return, Shipping, Voltage Policy
Does the selected shipping service apply to my country and what is the carrier?
Shipping Methods

Free

Shipping

Hong Kong EMS

Fastest 

Shipping

Carrier

EMS

Hong Kong EMS

DHL

or

DPD

Cost

Free

35€ Per Item

10/20/35€

Per Item

Process Time

1-2 Weeks

1-2 Weeks

3-7  Days

Shipping Time

2-3 

Weeks

1-2 Weeks

3-7 Days (Most EU Countries)

Delivery Area

Most of the countries in Europe (such as Sweden,  France, the UK, Netherlands, Belgium, Poland, Italy, and Germany). Other non-European countries (such as the USA, Canada, Japan, and Australia).


Most countries.

Sweden, Germany, Czech, France, Netherlands, Belgium, Poland, Italy,  Austria, Spain, and other EU countries (6-10 Days).
If you are not sure if our delivery service is supported in your country or region, please get in touch with us via [email protected].

Delivery times = Process time (order preparation) + Shipping time
How can I track the package?
After the orders are shipped, we will send you an email with the logistics tracking number.

You can check the logistics status of your order at

https://www.17track.net/en

.

If you do not receive our emails, please contact us at support@yigolighting.com, and we will reply to you as soon as possible.
Can I change my order?
Once we receive your order we get to work on it right away. This means that changes or cancellations are not always possible. You should also know that once an order is placed, it cannot be changed online. With all of this in mind, we still do understand that sometimes you want to ask us to try, so you may email us via [email protected] with your order number and invoice. We will make our best efforts to apply the requested change and get back to you within 24 hours. If the item ships prior to confirmation of a cancellation or change request, you may return it following our standard return policy -

Returns

.

Please do not initiate any PayPal cases and credit card chargebacks, we will do our best to help you resolve the issue.

If your order has already been shipped. Orders cannot be canceled. For the forcible cancellation of the order, you need to pay a shipping fee.
Can I get a free replacement for the product with quality problems?
If you receive an item that is damaged, or defective or if it is not what you ordered, we will, of course, provide a replacement at no charge. Please contact us via [email protected] within 48 hours and report any discrepancies (with pictures) to us as soon as possible. We will give you a perfect solution as soon as possible. 
If I return an item how is my refund calculated?
If you change your mind and decide to return an item that is defined as returnable, there is no restocking fee, however, you are responsible for the return shipping costs. 
What should I do if my credit card has been refused when placing an order?
Check that all the details you have entered on the checkout page are correct. If it is refused after that, try another credit card. Contact us via [email protected] if you feel that your card is being refused due to our error. In some cases, we may recommend that you contact your credit card company to get the issue resolved.
When do I get my refund once I have returned an item?
We realize that refunds are a priority for our customers. Once we have received and inspected the item, it will take 5 business days for the amount to be credited back to your original payment account (PayPal: 2-3 days; Credit Card: 3-5 days; Klarna: 3-5 days). However, due to shipping, inspection, and bank processing times, it sometimes takes up to 30 days from the date that you return the item for the refund to appear on your card.
I have a complaint, who should I speak to?
We want to know immediately when you are unhappy about your experience with YIGO. Please call, chat or email Customer Service right away and we will make our best efforts to address your concern.
Do you offer discounts on large quantity orders?
We offer special discounts for large-volume orders. Please contact Customer Service with any questions.
Does the voltage require by the product I purchased to match the country where I am located?
The voltage of our products will be adjusted according to your country as shown below.

110V-120V: USA, Canada, Mexico, Brazil, Japan, Cuba.

220V-240V: Sweden, UK, Australia, France, Netherlands, Italy, Germany, Spain, Norway, Ireland, Greece, Portugal, New Zealand, Belgium, South Africa, Egypt, Chile, Denmark, Russia, Singapore, Israel, Switzerland.